The crazy cottolin table runner project is done – yay! It took me another 2 hours for the finishing work. But I'm happy to report it is finished! Here are some of the things I learned along the way –
* I don't enjoy cottolin as a warp. My threads were not good under tension! (If you've had a different experience, let me know if it's just me!)
* I love the texture of cottolin! Before it was washed, after it was washed – it's all good! I love the bit of scratchiness to it!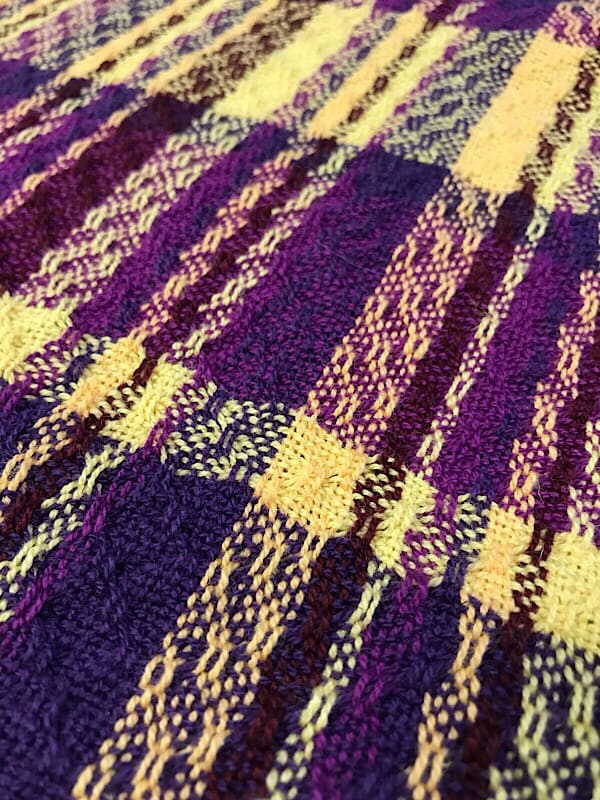 * There's a reason I love fatter yarns! The cottolin I used was much finer than my typical cotton. And finer yarns just take longer to do everything! Don't get me wrong, I have a fair share of patience! As a weaver you have to! But, really thin yarns test my limits!
* I'm clearly hung up on yellow and purple! Just this week, I pulled out a project I completeld about six months ago – yellow and purple! It's like when you get an earworm and the same song plays over and over in your head. That's me, only it's certain colors! It's a colorful weaving worm! (This has a taken a distinctive turn into the bizarre! Back on track now…)
* Don't get too cocky – math errors can happen to you. I've been weaving for over 12 years now and I love me some math! But I'll be darned if I didn't write down that 13 + 11 = 26! Multiple times, even! And I promise I hadn't been drinking! (Although that green tea did steep for awhile…)
* Cottolin shrinks less than cotton. I got about 7-8% shrinkage in the length on this project, versus the 10+% I usually plan for using carpet warp. And I would imagine the Spot Bronson pattern would lend itself to some prominent shrinkage with those lovely long floats everywhere!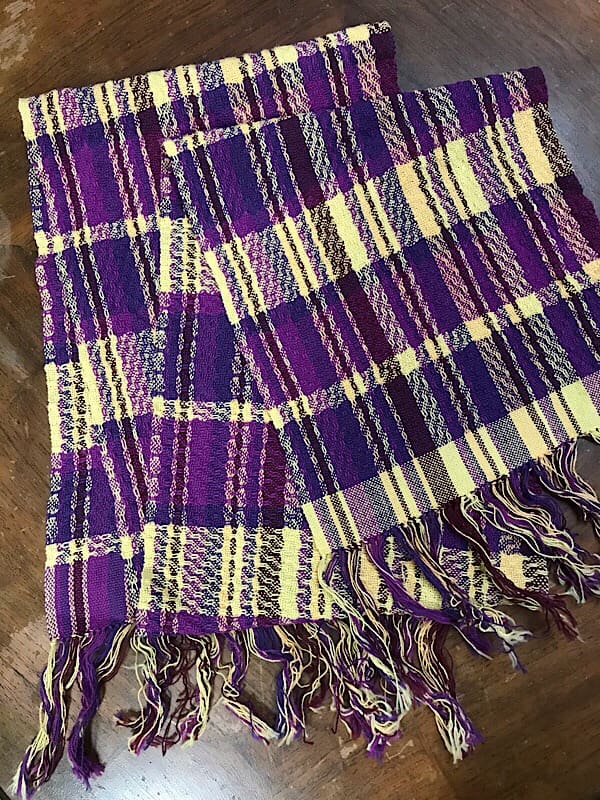 Ultimately, this challenge did exactly what it was supposed to do – get me out of my comfort zone! I tried a new fiber, I revisited a pattern I don't usually plan for, and I fixed some broken threads! It's all good!
What has been your takeaway from a recent project?
Song of the Day – Andy Grammer, "Smoke Clears"