"Not everyone is your people." (There are some serious grammatical problems there, I realize. But I couldn't find a better way to say it!) Thankfully, this was a lesson I learned pretty early on in my artistic and entrepreneurial journey.
Boy, it's a big one, isn't it? It's so easy to be hurt or disappointed or upset when folks don't like your work. Or when they say they like it, but never buy. At one of the first European Markets I participated in at Chesterton, there was a woman who loudly proclaimed that she had seen, "a bag just like this at Target". I'm sitting 4 feet away from her, at my loom, weaving the fabric that will be used in a future bag. Ugh…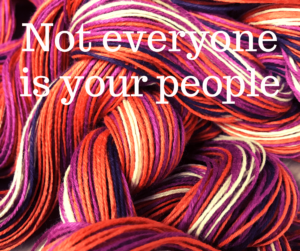 What I came to realize is that my work isn't for everyone, nor should it be. My handwoven, one-of-a-kind, colorful, textured handbags and homegoods are intriguing to women who value the story of knowing who made the item and what she went through to create it. My client sees the whole process, appreciates the passion invested in each piece, and will happily pay for it – knowing that she will have the only one in existence. Ever.
Not everyone is that person. And that's really okay. I think our job as artists and business owners is to market ourselves and tell our story the best way we know how in order to reach our audience. That's a pretty tall order. To do that, it's in our best interest to let the other non-customers go and focus on our people.
Who are your people? Happy weaving, friends! – Chris