The October Weave Along is here! Woohoo! Are you ready for a month of weaving and community? That's the goal – to come together while working on a common pattern and having fun weaving!
Here are the 2 guidelines for the October Weave Along –
All participants will start and finish a weaving project in the month of October, and
We'll all do it using the same pattern – a 1/3 twill!
That's it! That is all there is to it. I have a welcome video for you right here…
October Weave Along Group
To help us stay on track and connect with each other throughout the process, I've set up a Facebook group specifically for us! The group will be a safe space for us to show our work, ask questions, support each other, and find inspiration. Head over to the Acton Creative October Weave Along Facebook Group and join us!
October Weave Along Pattern
One of our 2 guidelines for the month is that we'll do the same pattern, which is a 1/3 twill. If you aren't familiar with this weaving pattern, no worries. It's a sweet, easy one with LOTS of possibilities.
Set up your loom for a straight draw, meaning your warp yarns are threaded in your shafts in a 1-2-3-4 repeat, over and over again. Then, for the treadling (the order you step on your treadles for a floor loom, or pull down the levers on a table loom), you lift one yarn at a time – shifting one seat over each time. Thus, you go under 1 warp yarn and over 3 with each toss of the shuttle. (It's a 1/3 pattern! Pretty cool, huh?)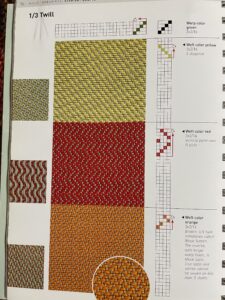 If you have the Anne Dixon book titled, A Handweaver's Pattern Directory, the 1/3 twill is on page 36. (If you don't have Anne's book, it is my favorite and I highly recommend it! Just click on the title, it'll take you right to it! As an Amazon Associate I earn from qualifying purchases.)
You are welcome to pursue any variation you like! Have fun and go to town! Remember to include a floating selvedge for each side of your project to catch your weft yarns. Weaving will simply be more enjoyable with floating selvedges to help you with your edges. To the left is the picture of the 1/3 twill, in case you don't have access to Anne's book yet.
October Weave Along Project
There is no limit or restrictions on what you can do for the October Weave Along. Nope. None. Do whatever you've been dreaming about and simply haven't gotten around to doing yet. The sky is the limit! Just make sure it is something you can complete in one month. Otherwise, go crazy!! You have my permission to weave anything – from mug rugs to scarves to blankets to pillows and more. It's all fair game!
However, if this all sounds fun but completely overwhelming, no worries! I've created my own Acton Creative October Weave Along Project that is available to you! My project is a short table runner in fall colors and it utilizes 3 variations on the 1/3 twill pattern. As a bonus, there is no sewing required.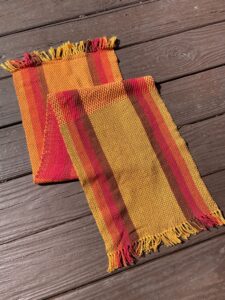 This simple, straightforward project is sold as a kit ($40) through my local weaving store, Three Moons Fiberworks. When you purchase it (shipping is included), Rebecca will put the yarn into the mail to you and I will email you your pattern, with instructions. The instructions will include all your dimensions and numbers, the pattern with how to weave the project, and details about how to finish it. (Please note: the kit does not include details on how to dress your loom. It is tailored to this project, only.)
Pick up your kit for the Acton Creative October Weave Along Project right here!
The Acton Creative Insiders
So you're reading all about the October Weave Along and thinking, "Yes, but I would like a little more, please". Well then, I've got your covered! I have a monthly membership called the Acton Creative Insiders. And each week, the members are treated to a 5-minute update with inside information, Tip Tuesdays chock-full of weaving tips, and Extras/Bloopers for my weekly video called, "A Handwoven Experience".
All my fabulous members will receive a FREE copy of the Acton Creative Weave Along Project, just by being part of the membership. AND the Patrons Plus will have access to ongoing video how-to's throughout the month, specifically about the Acton Creative Weave Along Project!
There is always room for you at the Acton Creative Insiders and I'd love for you to join us! Just click here to become part of the membership.
FAQ's
Can I do 1/3 twill on a rigid heddle loom? Yes, but it will take some hand manipulation – meaning you won't be able to easily toss a shuttle back and forth to create the pattern.
What width loom do I need for the Acton Creative Weave Along Project? The project is set at 14″ wide. However, if your loom is narrower than that, you can easily take out a few inches of the middle and it will still work beautifully! No problem.
Can I use my own yarn for the Acton Creative Weave Along Project? You absolutely may use your own yarn! It would be beautiful in all sorts of colors and textures. The project is designed for carpet warp or rug warp, but you can easily substitute that with another fiber. To get access to the project plan only, you're welcome to join the Acton Creative Insiders. The membership tiers begin at $5 per month.
I want to participate, but don't want to do this pattern. While I would love for you to try the pattern, there is no weaving police monitoring weavers who choose to do your own thing. This is simply meant to give you inspiration and encourage you to get weaving!
What if I get stuck during the project? You have options, my friend! First of all, there is an entire Facebook group of weavers all going through the same thing. So, reach out and ask for some feedback/suggestions/answers. It's a fabulous and generous group who will run to your rescue, I promise! However, if you want to do things more privately, you are always welcome to reach out to me directly at chris@actoncreative.net. I LOVE connecting with other weavers and will do my darnedest to help you out of your pickle!
How do I share my progress and the finished project? Please post photos of your progress and the finished project in the Facebook group. I will pull together a parade of projects at the end of the month so we can all ooh and ahh over our weaving brilliance!
Happy Weaving!
I'm so excited to share this weaving adventure with you, during the month of October! My hope is that this experience will spark lots of project and weaving ideas for the future, plus introduce you to a few new weaving friends online! Cheers to you & our month of weaving! Happy Weaving!!