Weave Your Own Color Gamp Class
Registration is closed.
What is a color gamp? A color gamp is a color study, especially important to weavers! With each project, a weaver needs to select 2 sets of colors (warp and weft). A color gamp will showcase the unique results that occur when 2 colors merge in a weaving project.
Typically it looks like a grid of colorful squares that would look beautiful hanging on any wall. But when you look closer, a color gamp will give you a wealth of information about how to use color as a powerful tool in your weaving.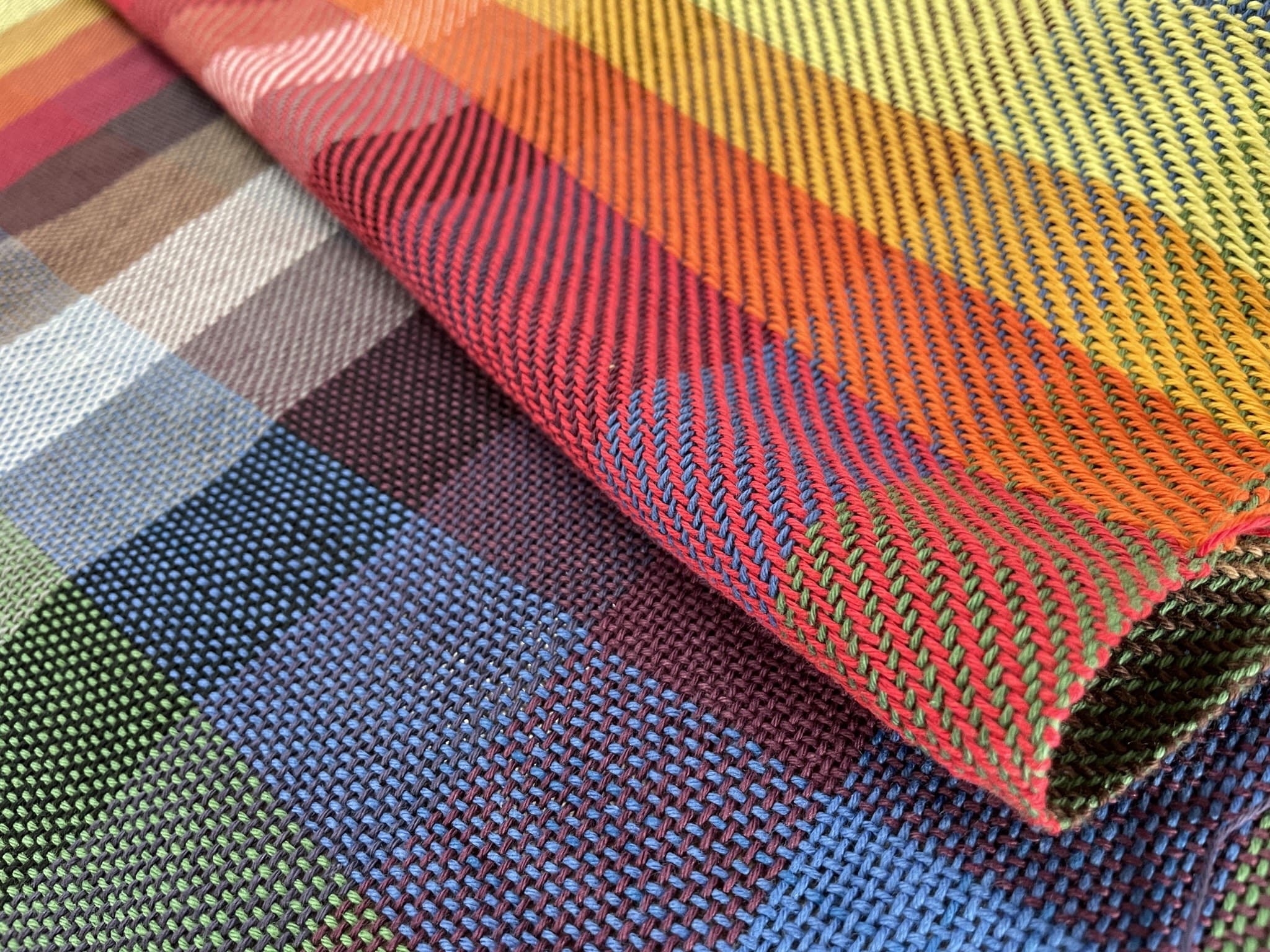 Course Overview
What is included in the Weave Your Own Color Gamp Class? Each student will receive a set of 5 videos explaining the world of color gamps and how to create your own. In addition, a copy of Chris's color gamp project plan, and a list of yarns are included. The cost is $49 for class. 
How will this class help me? Color is tricky for weavers. There are so many variables included in a weaving project that it can be very hard to anticipate what the final fabric will look like.
The Weave Your Own Color Gamp Class will give you the details needed to weave a color gamp of your own – which, in turn, will give you a reference point for how colors interact with each other. The more you experiment with color, the more confident you will become. A color gamp is a perfect place to begin!
Course Outline
The Weave Your Own Color Gamp Class includes 5 videos, along with a project plan and a list of yarns so you can recreate Chris's exact project. These are the videos:
Introduction
How to Weave a Color Gamp (The Warp)
How to Weave a Color Gamp (The Weft)
My Color Gamp Project
Conclusion
"Chris'

excitement is so explosive

– how could we not feel inspired? I'm already thinking of so many new ideas and projects."
"Opened a

whole new world

of ideas for my weaving."
"I was totally

in love with the whole class

. Thank you!"
Frequently Asked Questions
Yes! A color gamp is a very straightforward project that is appropriate for beginners.
Yes! Matter of fact, that is the exact loom I used for the project.
Yes, you can! The bulk of the project will translate beautifully to a rigid heddle. The only portion of the project that may be difficult to recreate will be the twill portion. But, simply insert something you would like to see there instead. (There are no rules!)
I suggest a loom, a shuttle, and any random yarns you have available.
There are no refunds for this class. If for any reason this class does not meet your expectations, please reach out to me at 
chris@actoncreative.net
.
Because there are many ways to dress a loom, I do not include any specifics. I provide dimensions for setting up the project (ex. warp length, width, and sett), plus details on how to actually weave your color gamp.
You will receive the links to the class through an email, giving you forever access!
Yes! If you missed the window to purchase it, it will be definitely be sold again in the future. Stay tuned!
Celebrate!! Finishing anything is a big accomplishment. But I would LOVE to see your final projects once you've completed them. Send images to me at 
chris@actoncreative.net
. I have big plans to brag all about my students on the website and social media. I can't wait!